We present an innovative product that is the perfect answer to the needs of every physically active person who wants to improve their results and continues to fight for a better figure. It's the world's first post-workout powder mix with Kannabidiol and Superfoods, called Alpha Sport. Contains 10mg CBD in one serving of the product and 6 different Superfoods, which together will support the regeneration of the body and support muscle growth and their post-workout regeneration and help you achieve your individual goals.
This wonderful product contains 6 different Superfoods: Ceylon cinnamon powder, cocoa powder, bee pollen, ashwagandha powder, hemp seeds, maqui berry powder. The package contains 20 portions of the product, and each portion is up to 10mg CBD. This unique blend is the perfect complement to a healthy diet that goes well with many products such as yogurt, low-fat cottage cheese or a cocktail.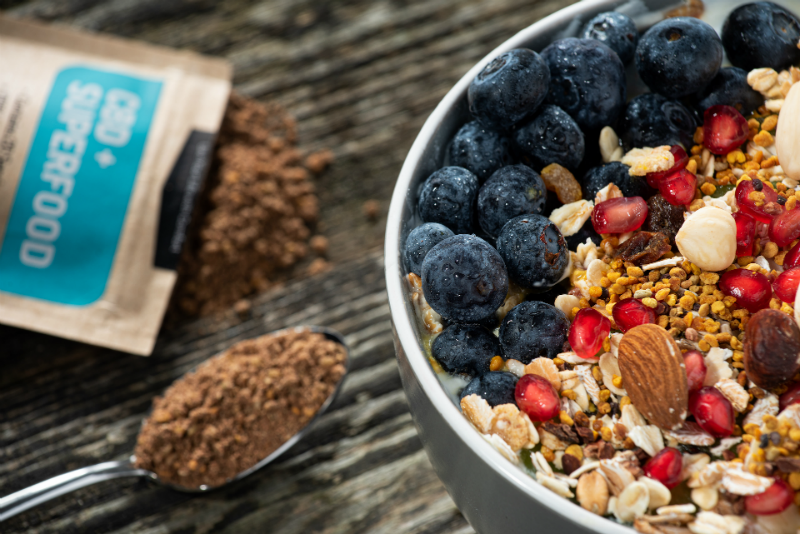 Sample usage suggestion:
Strawberry milkshake with the addition of oatmeal
250 g strawberries

250 ml rice milk

35g oat flakes

1 serving of Alpha Sport
Mix oatmeal in a blender until a homogeneous powdered consistency is obtained. Add strawberries and 1 serving of Alpha Sport. Pour milk over it. Blend to thoroughly combine all ingredients and achieve a uniform consistency.
This cocktail is a tasty and light offer of a post-workout meal, which will satisfy the need after eating intense training to eat "something sweet" and will supplement any deficiencies arising in the body after training.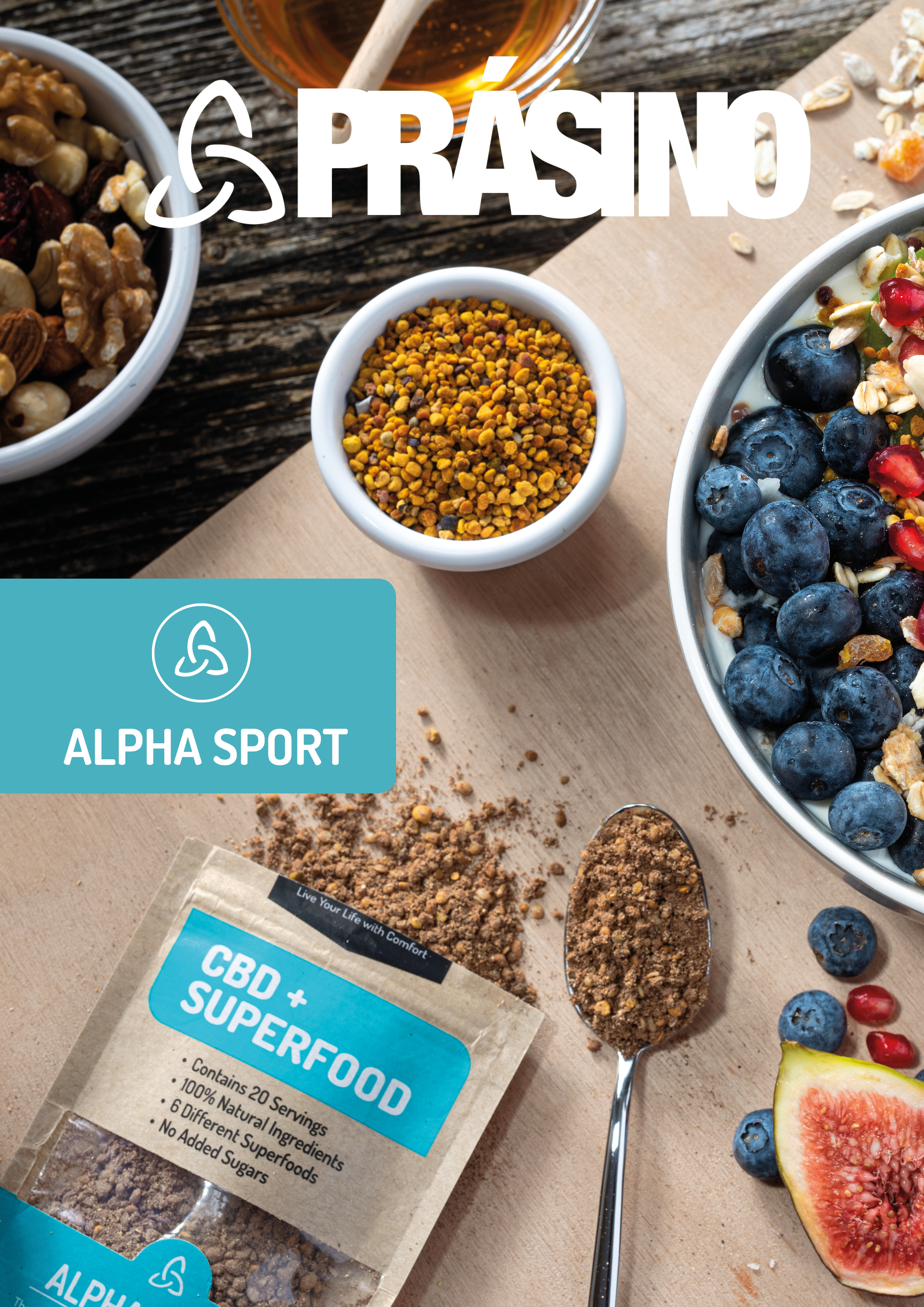 Alpha Sport CBD + SuperFood is used to give taste to your meals.
One serving - 5g (teaspoon) add to natural yogurt, lean curd or cocktail | Consume 1-2 times a day
The Alpha Sport dietary supplement is best consumed as a post-workout meal to optimally absorb all active ingredients.
The package contains 20 portions of the product, and each portion is up to 10mg CBD.
 Package:

100 g

Servings per package:

20

Daily portion:


5 g

Nutritional value:

5 g

*%RI

10 g

*%RI

Energy value

92,1 kJ / 22 kcal

-

184,2 kJ / 44 kcal

-

Fat

1,3 g

-

2,6 g

-

 - saturated fatty acids

0,3 g

-

0,6 g

-

Carbohydrates

1,6 g

-

3,2 g

-

 - including sugars

0,8 g

-

1,6 g

-

Protein

0,9 g

-

1,8 g

-

Fiber

0,8 g

-

1,6 g

-

Salt

0 g

-

0 g

-

Vitamin C

0,8 g

1%

1,6 g

2%
*%RI - Reference intake value for an average adult (8400 kJ / 2000 kcal)
Ingredients per serving (5g): Ceylon cinnamon powder* (0.1g), bee pollen (1.6g), ashwagandha powder* (0.6g), cocoa beans powder* (0.4g), maqui berries in powder* (0.35g), hemp seed* (1.75g), cannabidiol* without THC (0.2g)
* certified organic ingredient
The product does not contain psychoactive substances.
The product was made from industrial hemp containing 0% Tetrahydrocannabinol THC
CBD is not a substitute for prescription drugs. That is why we recommend that you read the information on CBD before you decide to stop taking the medication. If you decide to stop using CBD medication, always consult your doctor or other specialist. CBD is a dietary supplement, therefore it does not replace medicines.
| Delivery methods | Name | Time of delivery | Price |
| --- | --- | --- | --- |
| | InPost Paczkomaty | 48h - 72h | 10,00 zł |
| | InPost Kurier | 1 | 14,00 zł |
| | Ups Standard | 24h | 16,00 zł |
| | Odbiór osobisty | Odbiór w sklepie | Free! |
| | InPost Paczkomaty - Pobranie | 48h - 72h | 14,00 zł |
| | InPost Kurier - Pobranie | 24h - 48h | 16,00 zł |