Impressive properties
With a reliable and specially selected blend of active ingredients, the Iron Horse Series Show Time Dietary Supplement works harder and longer than other products before training, eliminating the feeling of tiredness after the training. The product is ideally suited to the use of people who constantly raise the bar, still few and not terrible challenges. It is designed for people training strength and endurance sports, who want to significantly increase their capabilities.
Active components Show Time
The dietary supplement is m.i.n. beta alanine, histidine, pyridoxine, taurine, tyrosine or niacyna and magnesium. In combination, the ingredients intensively affect the efficiency of the nervous and muscular systems. This is the maximum boost of energy that will not stop the workout. The use of the supplement before training significantly improves concentration and motivation, additionally guaranteeing the improvement of sports results obtained during training. Thanks to this, you can get much better effects of the brain-muscle work, which positively affect the efficiency of training. AAKG used in the preparation (in other words - arginine alpha-ketoglutarate) supports the "pump" muscle, while increasing the production of nitric oxide. We will get the best action after applying up to 20 minutes before starting the exercise.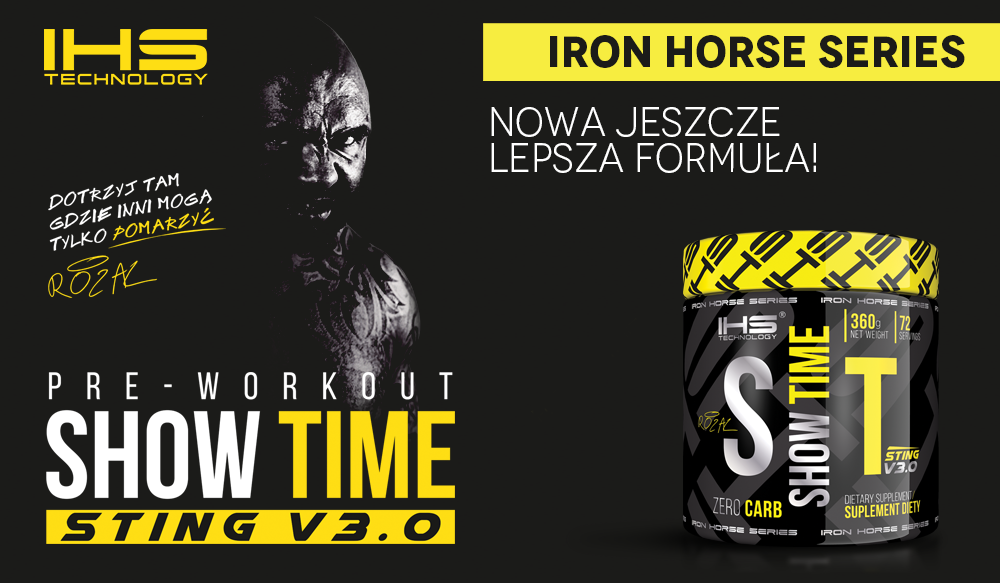 Dissolve one portion of the product 5g in a glass of water, consume 20 minutes before the workout.
Package:

360g

Servings per package:

72


Daily dose:

5g

Active ingredients:

in a serving

*% RI

Beta-alanine

1600 mg

-

AAKG

800 mg

-

Taurine

600 mg

-

Tyrosine

500 mg

-

N-acetyl L-carnitine

500 mg

-

Extract from yerba mate

200 mg

-

Bitter orange peel extract

200 mg

-

Guarana

100 mg

-

Magnesium

100 mg

26.6%

Schizandrol A

50 mg

-

Vitamin B1

5 mg

454%

Vitamin B6

5 mg

357%

Vitamin B12

10 μg

400%

Hupercyna A

50 μg

-
*% RI - Reference intake value for an average adult (8400 kJ / 2000 kcal)
Ingredients: Beta-alanine, arginine alpha-ketoglutarate, taurine, tyrosine, L-carnitine N-acetyl, extract of yerba mate, bitter orange peel extract (6% synephrine), guarana, caffeine, schizandrol A (Chinese citron extract), magnesium salt of citric acid, thiamine hydrochloride, pyridoxine hydrochloride, cyanocobalamin, hupercine A; sweetener: sucralose; dyes: quinoline yellow (for lemon and pineapple flavors), sunset yellow (for orange flavor); lemon flavor (for lemon flavor), pineapple flavor (for pineapple flavor), orange flavor (for orange flavor); anti-caking agent: magnesium stearate. CONTAINS SWEETENERS.
Do not eat if you are allergic to any of the ingredients in the product.
The product should not be consumed by pregnant women and nursing mothers.
Do not exceed the recommended daily intake of the product.
The dietary supplement can not be used as a substitute for a varied diet.
Protect against direct sunlight.
Keep out of the reach of small children, at room temperature, in a closed container, in a dry place.
| Delivery methods | Name | Time of delivery | Price |
| --- | --- | --- | --- |
| | InPost Paczkomaty | 48h - 72h | Free! |
| | InPost Kurier | 1 | Free! |
| | Ups Standard | 24h | Free! |
| | Odbiór osobisty | Odbiór w sklepie | Free! |
| | InPost Paczkomaty - Pobranie | 48h - 72h | Free! |
| | InPost Kurier - Pobranie | 24h - 48h | Free! |
* With any purchase over 300,00 zł free delivery!