Per serving (25g) 22g Protein + 4.9g BCAA

With the addition of functional amino acids: L-arginine HCl, L-citrulline, L-glutamine

It helps to maintain muscle mass, healthy bones, as well as to increase muscle mass

Faster post-workout regeneration

Extremely high protein content: 88%

High amino acid content

Quick and easy absorption

Low fat and carbohydrate content

No additional sugar with stevia

High-quality protein product WITHOUT LACTOSE and GLUTEN FREE!

Pleasant and diverse flavors
Whey protein isolate without lactose
Dietary supplement BioTech Usa Iso Whey Zero contains only ingredients useful in this type of conditioner. It has not been enriched with any unnecessary fillers that could cause unwanted side effects. It does not contain lactose, trans fats or sugar. The main ingredient of Iso Whey Zero is a high-quality protein - pure whey protein isolate, obtained by the CFM method - i.e. by cross-microfiltration. The proteins formed in this way retain all the most important protein fractions, as 99% of the resulting product is not denatured. The protein thus obtained contains a negligible amount of fat and carbohydrates. It is characterized by an impressive amount of BCAAs with effective anti-catabolic and anabolic effects.

Iso Whey Zero slimming
An important issue when it comes to Iso Whey Zero is what flavor we choose. Depending on the taste of the product, it has a varied content of pure protein in the composition. This is associated with the amounts of additional flavorings that are necessary to achieve the desired flavor effect. It seems that chocolate flavor needs the most flavorings and dyes, and vanilla and coconut least. In addition, you'll also find the taste of strawberry, pineapple-mango, banana, tiramisu, nutty, cheesecake and many more.

BioTech Iso Whey Zero
BioTech Usa Iso Whey Zero dissolves perfectly in water. After mixing, it does not leave lumps, and we do not need a shaker for preparation. The dose of the product can be adjusted depending on the deficiency of protein in our diet. The main thing is to determine the need for protein, depending on the type of training, goals and leading a lifestyle. In the next stage, determine how much protein you eat from foods throughout the day. The difference between the demand for protein and protein supplied from food should be supplemented with an appropriate nutrient.

Drink Iso Whey Zero regularly and recharge your muscles!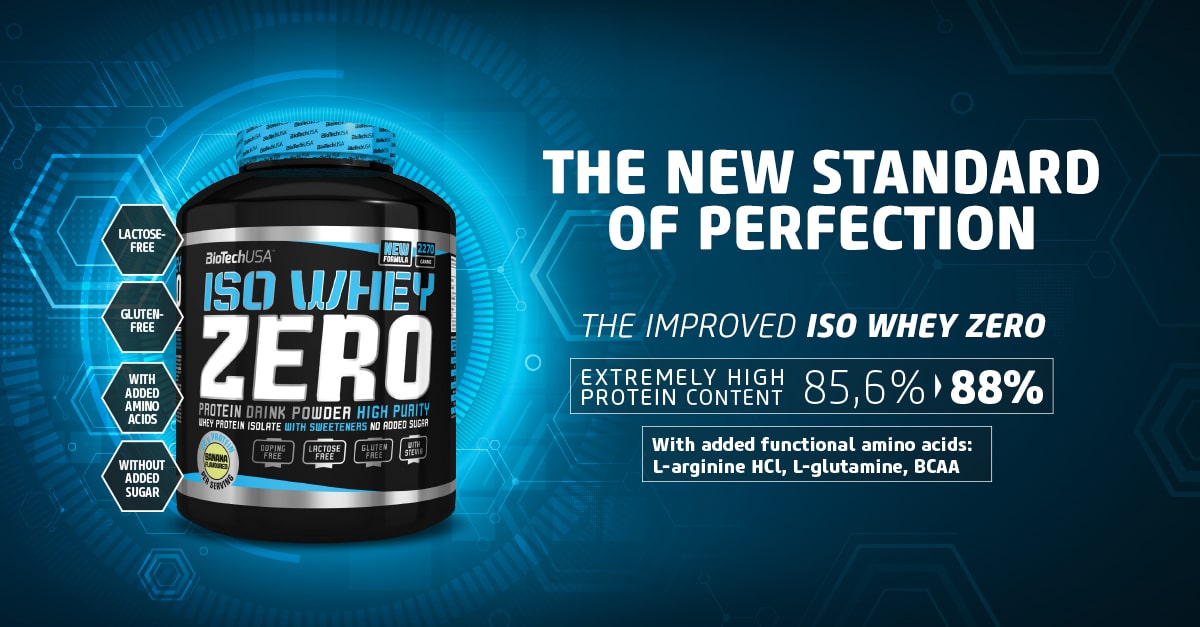 Training days: 1 serving in the morning, 1 serving after training
Non-workout days: 1 serving in the morning, 1 serving in the evening
Mix 25g. Iso Whey Zero with 200ml-250ml water.
Package:

500 g


Servings per package:

20


Daily portion:

25 g

Nutritional value:

in portion


in 50 g

in 100 g

*%RI

Energy value

1579 kj / 372 kcal

790 kj / 186 kcal

1579 kj / 372 kcal

19%

Fat

0.5 g

0.8 g

1.6 g

2.3%

 - saturated fatty acids

0.3 g

0.5 g

1 g

5%

Carbohydrates

1.3 g

2.6 g

5.2 g

2%

 - including sugars

<0.5 g

<0.5 g

0.8 g

0.89%

Protein

21 g

42 g

84 g

168%

Salt

0.18 g

0.36 g

0.71 g

12%
*%RI - Reference intake value for an average adult (8400 kJ / 2000 kcal)
Ingredients: thickener (e466, e415), sweeteners (e951, e955), flavors, stabilizer (e340), anti-caking agent (e551), emulsifier (e471), dyes (e100, e160a).